---
Gwyneth Walker
Together in Song
for SATB Chorus, Brass Quintet, Percussion, and Piano (2005)
---
Return to Gwyneth Walker Music Catalog
Read Chapel Hill Community Chorus Premieres New Music to Celebrate Its Silver Jubilee by Sonia L. Johnson, The Herald-Sun. (2006)

Download an an MP3 file of the first movement of this work performed by the Chapel Hill Community Chorus and the Carolina Brass, Sue T. Klausmeyer, conductor.
Download an an MP3 file of the second movement of this work.
Download an an MP3 file of the third movement of this work.

Download a PDF file of the choral score of this composition. For perusal only -- not printable.

---
(Photograph of the Chapel Hill Community Chorus in the premiere performance of this work.)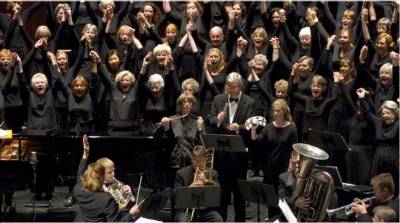 Commissioned by and dedicated to the Chapel Hill Community Chorus on the occasion of their 25th season: 1981-2005, premiered by the Chapel Hill Community Chorus, Dr. Sue Klausmeyer, conductor, May 19, 2006 - Chapel Hill, North Carolina
Together in Song is a three-song set of contemporary adaptations of American spirituals. The intent is to enjoy and enlarge upon these familiar songs in musical settings for chorus, brass quintet, percussion and keyboard.
A brass introduction leads into the first song, "Hear the Trumpets Sound," based on "My Lord, What a Morning!" This song was selected, in part, because of the lyrics "You will hear the trumpets sound to wake the nations underground." These lines give special impetus to the use of trumpets in this music. In addition, the energy expressed ("wake the nations") is the essence of this song. The tempo is lively, and the mood is generally boisterous and celebratory.
"Prayer" is based upon "Let Us Break Bread Together." This is a quiet, gentle song. The brass playing is sustained, often presenting the rhythms "Lord have mercy on us" (five quarter-notes followed by a dotted-half). Near the end, the music grows in intensity and dynamics for the verse (new words) "May our song rise together, and bring us peace."
Percussion is a featured part of "The Gospel Plow." This includes percussion instruments played by members of the chorus. This arrangement of the gospel song "Hold On!" endeavors to build upon the strength and vitality of the original. As the hands "hold on," in the lyrics, so do hands (and feet!) present rhythmic elements.
A special focus is placed on the stanza "The only chain that we can stand is that chain that goes from hand to hand." And indeed, these are the words which close the song. For the essence and joy of community singing is the bond which is formed among the members of the chorus - together in song.
Notes by the composer
---