---
Gwyneth Walker
Gwyneth Walker To Receive VCA Lifetime Achievement Award
by Marjorie Drysdale
The Herald of Randolph
Published 6/8/2000
---
Return to Gwyneth Walker Home Page
Return to Gwyneth Walker Music Catalog
Return to Gwyneth Walker Recordings Page
Read notes for Symphony of Grace (1999) for orchestra
Read notes for Sounding Joy (1985) for SATB chorus
Read notes for Braintree Quintet (1988) for woodwind quintet
Read notes for Raise the Roof! (1987) for brass quintet
Read notes for Shaker Tunes (1994) for brass quintet
Read notes for Dreams and Dances (1992) for SATB chorus and piano (or strings)
Read notes for St. John's Trilogy (1990) for congregation, SATB choir, and organ
Read notes for River Songs (1996) for SATB chorus and chamber orchestra
---
(Photograph of the "Sounding Joy! Singers" of Randolph, Vermont -- friends and neighbors of Gwyneth Walker; the singers performed works of Walker at the awards ceremony for VCA Lifetime Achievement Award.)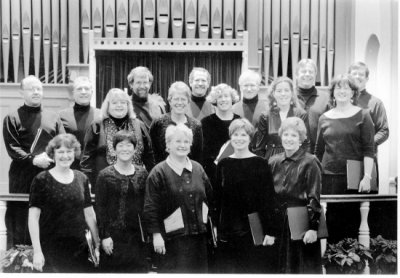 Nationally acclaimed composer Dr. Gwyneth Walker of Braintree will be presented the Cerf Lifetime Achievement Award from the Vermont Arts Council this Friday afternoon, June 9 at the Barre Opera House.
Arts Council trustee Irwin Gelber will present the coveted award to Walker during a ceremony that will begin Friday at 4 p.m. Following the presentation, a sampling of Walker's work will be performed by Sounding Joy! of Randolph. A reception will follow.
Mary Azarian of Cabot will also receive the coveted honor during this ceremony, in recognition of her excellent work as a painter and printmaker.
According to Arlene Coughlin, VCA executive assistant, the Lifetime Achievement Awards "honor Vermont residents who, through a lifetime of dedication and achievement have contributed enormously to the development of their field, and to the quality of life and culture in America."
Lavish Praise
Alexander Aldrich, executive director of the Vermont Arts Council, was lavish in his praise of Walker during a telephone interview Tuesday: "I've been familiar with Gwyneth Walker's music since the early '90's," he said, "when I worked for the National Endowment for the Arts in Washington, D. C. Her name was frequently bandied about as a composer of major national stature. I was was director of music programs at that point, but I didn't pay attention to where she lived. I just knew that she was one of the major figures of the latter part of the 20th century. That was her reptuation.
"I left the NEA in '92 and went to Atlanta and lived there for several years. When I came to Vermont a few years later, almost the first concert I went to included a Walker piece. I read the bio and thought, "Oh, she's a Vermonter! That's great! We have one of the major composers of our time living in our midst!
"She is absolutely and clearly in the top rank," Aldrich emphasized. "She is one of the foremost national composers working today."
Respectful Approach
"I'm delighted to receive this award," said Walker in a telephone interview this week, "but I'm doubly delighted that many of my friends and neighbors will be there for the occasion! When I learned that I got the award, my first sentence was, "Can we have a live performance? Can we have Sounding Joy!?"
Marjorie Drysdale, director of the vocal ensemble, Sounding Joy!, responded, "This kind of comment is typical of Gwyneth. She has a warm spot in her heart for local music-making, and she treats local musicians with tremendous respect. Naturally, we were overjoyed to be asked. This is a tremendous honor."
Start Locally
Walker developed her national reputation by starting locally. She makes a point of traveling extensively to visit the communities where her music is performed. She meets the people involved and often attends rehearsals, giving key words of advice and encouragement. The quality of Walker's music, combined with her down-to-earth, hands-on approach has paid off with a flurry of commissions that stretch well into the next decade.
Many of these communities invite her back. "I particularly like that," Walker said. "I love to come back. Every year I return to places in Melbourne, Sarasota, and Bradenton, Florida, to San Francisco, and to Nevada. I don't think I'd enjoy my work half as much if I met people just once and then never saw them again."
This year, Walker's travels on behalf of her newly-composed "Symphony of Grace" have begun: The full-length symphony was jointly commissioned by six different orchestras, in San Francisco, Calif., Bell Air, Md., Towson, Md., Melbourne, Fla., Holyoke, Mass., and Carson City, Nev.
Earlier this year she traveled to San Francisco to work on the piece with the Women's Philharmonic, and also spent time last month in Carson City working on it with the Sierra Women's Chorus.
"Many people lament the state of classical music," Walker said. "They worry that the audiences are getting older, grayer and sparser. But it's been my observation that people flock to concerts in our churches and communiites. Why aim for Lincoln Center? What's important is, does it mean something to you and your friends? Can they sing it and enjoy it? If the work is good enough to delight one's neighbors, it will delight audiences everywhere!
"When we composers involve ourselves in the musical life of our communities," Walker continued, "we are choosing to participate in a healthy, often very accepting climate for our new works."
Putting Down Roots
Walker first came to Randolph in 1983, to work with the Randolph Singers, then directed by M. Dickey Drysdale, in their staged performance of her Christmas operetta, "Mary Come Running." The story's writer, Jean Merrill, a long-time resident of Randolph, had asked Walker to set the text to music, and the Singers had decided to perform it.
In her inimitable fashion, Walker traveled to Randolph to help with rehearsals. During her visit, she expressed her pleasure with the friendly atmosphere of the community.
"Well, then, why don't you move to Randolph?" responded Kathy Wonson Eddy, pastor of the United Church of Christ in Randolph and herself a composer.
"And so I did," recalls Walker.
Soon thereafter, the Randolph vocal ensemble, Sounding Joy!, was organized, taking its name from the fuguing tune by Randolph Center's colonial composer and horse breeder, Justin Morgan.
Intrigued, Walker researched the original tune, wrote an updated version, and presented it to Sounding Joy! The group ws so impressed by the compostion that they chose to adopt it as their signature piece.
In Honor of Home
Walker has composed many works in honor of her chosen home-town. The "Braintree Quintet'' for woodwinds was commissioned by the Braintree Historical Society and first performed at the Braintree Hill Meeting House. "That experience was very special," recalls Walker, who lives on the Simpson farm in Braintree.
Other works performed at the meeting house included her Shaker Tunes for voices and brass quintet, performed by Sounding Joy! and The Constitution Brass, her "Short Set for String Quartet," and others.
"Match Point," a humorous piece commissioned and performed by the Randolph Union H.S. band in 1988, went on, in her orchestrated version, to be performed at Avery Fisher Hall in Lincoln Center with tennis pro Billie Jean King conducting from the podium, with her tennis racket for a baton.
"Raise the Roof," commissioned in 1987 for the 10th anniversary of the renovation of Chandler Music Hall, is now performed by brass quintets throughout the country.
In the mid-80's, Vermont's Governor Madeleine Kunin attended a moving performance at College Hall in Montpelier, of Walker's "Gone the Rainbow," a dramatic piece on the subject of war and peace, performed by "Sounding Joy!." Not long thereafter, Kunin chose Walker's "Raise the Roof!" to be performed at her 1989 inauguration.
The Randolph Union H.S. chorus has performed "Bones Be Good" and Walker's arrangement of the Jon Gailmore tune, "Long Ago Lady;" and the Randolph Village School has performed "Lucky," which Walker composed in honor of the Vt. Special Olympics. Walker is especially proud of her "St. John's Trilogy," an entire service of music that is used every Sunday at St. John's Church in Randolph.
Extensive Credentials
Walker is a graduate of Brown University and the Hartt School of Music. She holds BA, MM and DMA degrees in music composition. A former faculty member of the Oberlin Collge Conservatory, she resigned from academic employment in 1982 in order to pursue a career as a full-time composer.
Walker's catalog includes over 120 commissioned works for orchestra, band, chorus and chamber ensembles. Her vocal and choral music, publised by E.C. Schirmer of Boston, is the best-selling music on the company's roster. Her instrumental music is published by MMB Music of St. Louis, Mo.
In 1999, Walker accepted the Raymond W. Brock Memorial Commission from the American Choral Directors' Association (ADCA). The resulting work, "I Thank You, God," was premiered at the ACDA National Convention in Chicago.
Current works-in-progress include a Concerto for Bassoon and Strings, written for bassoonist Janet Polk of the Vt. Symphony Orchestra; new choral works for the Sierra Women's Ensemble of Reno, Nev. and the Chesapeake Chorale of Bowie, Md.; and a fourth string quartet.
Compared to Copland
This spring, Walker's "River Songs" for chorus and orchestra, recorded live at Chandler Music Hall in Randolph in a performance by Sounding Joy! and the Montpelier Chamber Orchestra, has drawn critical acclaim from Carson Cooman of "New Music Quarterly," who has reviewed the 1996 composition for the upcoming Fall, 2000 issue of the scholarly journal.
"There are few composers," he wrote, "with the ability to bring together a total synthesis of traditional material and their own musical ideas. This 1996 work by American Gwyneth Walker displays that she very well may be the greatest living exponent of this art. Perhaps not since Aaron Copland has there been a composer who is able to combine traditional American songs and spirituals so integrally with his/her own material so as to make them be totally fresh and original—without losing any of the power and flavor of the originals."
Cooman called "River Songs" one of the very finest works for chorus and orchestra written by an American and the very finest settings of these traditional songs/spirituals."
The CD, "The Sounds and Colors of Vermont," recorded by Vermont composer Dennis Bathory-Kitsz on his Malted Media label, features the "River Songs," along with works by Bathory-Kitsz and David Gunn. The CD, which Cooman refers to as "a very fine live concert recording," as well as other CD's of Walker's music, essays by the composer, newspaper reviews, feature stories, and a catalog of Walker's works, can be accessed on line at: http://kalvos.org/walker/