---
Gwyneth Walker
Three Songs in Celebration of the Family Farm
for SATB Chorus and Piano (1988)
---
Return to Gwyneth Walker Music Catalog
Read Vermont Family Farm Is Celebrated In Song by Georgia Croft, The Valley News.


Download a PDF file of the cover, table of contents, and notes page for this composition.

Download a PDF file of the full score of this composition. This score may be printed and duplicated for the purposes of performances. However, please send a message to performances@gwynethwalker.com, notifying us of the date/location of the performance.
---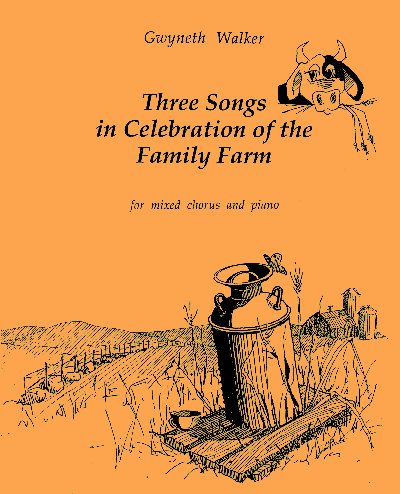 Commissioned by the Vermont Agriculture and Arts Association.
Three Songs in Celebration of the Family Farm are musical representations of farm life in the 1980s. The beauty, ordinariness, rigors and amusements of the work day are all portrayed. Even the sounds of the compressor and the cows shuffling through the barn are evoked!
The composer, who lives, on a family-owned dairy farm, researched these songs by spending hours in the milking barn. Her companions were 218 Holstein cows.
Notes by the composer
---