---
Gwyneth Walker
Fanfare for the Family Farm
for Orchestra (1989)
---
Return to Gwyneth Walker Music Catalog
Read Vermont Family Farm Is Celebrated In Song by Georgia Croft, The Valley News.

Download an a MP3 file of this work performed by the University of Central Florida Orchestra.

View/download a perusal PDF file of the full score of this orchestral work.

---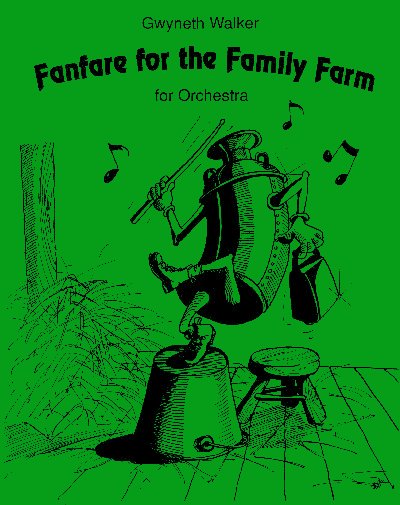 Commissioned by the Vermont Agriculture and Arts Association.
Fanfare for the Family Farm is a boisterous celebration of life on a family-owned dairy farm. The composer, who resides on the Brainstorm Dairy Farm in Braintree, Vermont, has written this music as an expression of the joy and humor she finds in living on a dairy farm.
The Fanfare begins with open intervals in the brass heralding the arrival of morning. The strings and winds then answer with ascending patterns to energize the start of the day. And, finally, the percussion enters, playing milk cans, pails and a cowbell.
The climax of the music arrives at the "milking section" in which the conductor leads the orchestra (milking sounds) in downward milking gestures! This is followed by a percussion cadenza and a final restatement of the 'energizing' theme.
Notes by the composer
---
(Photograph of work in performance in Randolph, Vermont; photograph: Stefan Hard/Times Argus.)