---
Gwyneth Walker
Bicycle Waltz
for Orchestra (1997)
---
Return to Gwyneth Walker Music Catalog

View/download a perusal PDF file of the full score of this orchestral work.

---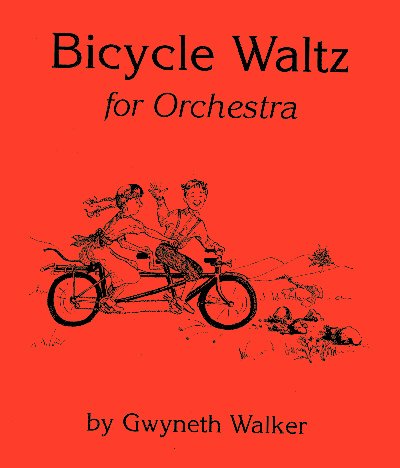 Commissioned by the Amherst Ballet Theatre Company, Amherst, Massachusetts.
Bicycle Waltz celebrates the bicycle -- a popular mode of conveyance in use for over a century. The 'musical adventure' portrays the delights and perils of riding a bicycle.
Based upon the 1890s song "Daisy Bell" ("A Bicycle Built for Two"), the orchestral waltz presents the tune in a variety of guises within a formal structure of:
Introduction -- preparation for the ride
A -- setting out on the ride
B -- a bumpy stretch of road...a mishap...slowly regaining confidence
A -- the ride resumes

Although bicycles and bicycle attire have evolved over the years, the experience of riding a bicycle has remained remarkably unchanged. Whether our individual approach to bike-riding has been leisurely or energetic, sedate or hazardous, many of us have shared in those moments of exhilaration as we set off on our own two-wheelers! And it is this spirit of joy which has inspired the Bicycle Waltz.
Notes by the composer
---