---
Gwyneth Walker
Walk On Up to Heaven
for SATB Chorus, Clarinet, and Piano (2004)
---
Return to Gwyneth Walker Music Catalog
Read an interview with Gwyneth Walker about her collaborations with Peggy Dettwiler and Mansfield University.

Download an MP3 file of a performance of this work by the Wichita State University A Cappella Choir, Tom Wine, conductor.
Download an MP3 file of a performance of this work by the Midland High School Meistersingers, Robert Sabourin, director


---
(Photograph of Gwyneth Walker, student Adrienne Davis, and conductor Peggy Dettwiler after the premiere at Mansfield University.)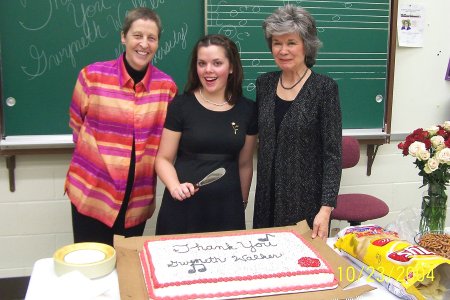 Commissioned by Mansfield University Music Department in memory of Helen Dieffenbach Lutes (1909-2003) who gave so much of herself to benefit the students of Mansfield University
Walk on up to Heaven is based on the traditional American song, "I Got Shoes." The song starts with the shoes, and the image of walking up to heaven. However, the focus then switches to the energetic and active aspects of living a positive life right here on earth: "Gonna shout for joy... gonna speak my mind...gonna agitate...gonna follow my dreams...gonna fly..."
And, with homage to the dedicatee, Helen Lutes (a sports enthusiast, with the softball fields at Mansfield University named in her honor), the joy of playing baseball is woven into the lyrics. "One of these days, I'm gonna hit a homer...round the bases...fly on up to heaven."
This song is scored for Mixed Chorus, Piano and Clarinet. It is envisioned that the Clarinet will express the qualities of lightness and bounce, within a swing rhythm, which are the essence of this music. Perhaps the Clarinet represents each of us, joyously, walking on up to heaven!
Notes by the composer
---