---
Gwyneth Walker
Gwyneth Walker Comes to Sarasota
by Chris Confessore, Assistant Conductor and Education Director, Florida West Coast Symphony
---
Return to Gwyneth Walker Home Page
Return to Gwyneth Walker Music Catalog
Return to Gwyneth Walker Recordings Page
Read notes for Open the Door (1990) for orchestra
---
(First photograph of Gwyneth Walker and 4th graders in Florida; second photograph of conductor Christopher Confessore)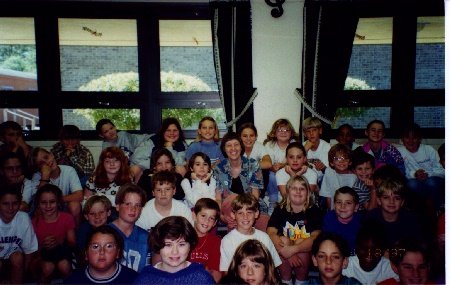 In August of 1993, the Florida West Coast Symphony announced a "Call for Cassettes" to discover new music by composers from around the country. Works with a duration of 5-10 minutes were to be sent to the Artistic Staff of the Florida West Coast Symphony. The announcement was placed in the American Music Center's Newsletter and was quickly picked up by other newsletters and journals. The response was overwhelming - more than 150 composers submitted works for review. Fifteen composers were asked to supply scores and program notes. After further review, two compositions were selected for performance by the Florida West Coast Symphony during the 1994/95 season. Gwyneth Walker's Open the Door opened the season in November and David Stock's Kickoff will open the February concerts.
A grant from Meet the Composer South and the Southern Arts Federation allowed Gwyneth Walker to travel to Sarasota to attend rehearsals, give pre-performance talks and meet area students in school workshops. Ms. Walker's visit to the Sarasota/Bradenton area helped broaden the awareness and appreciation of the music of living composers in the minds of everyone she spoke with - from elementary school students to longtime symphony patrons.
In each of her school Visits, Ms. Walker very clearly shared her thoughts on a wide range of topics. She talked about her daily schedule as a composer, how long it takes to write certain pieces of music, and what inspired her to write music in the first place. With the assistance of audio recordings and a live performance by the Florida Brass Quintet (an FWCS resident ensemble) she shared examples of her music with the students.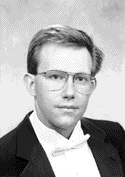 Ms. Walker's pre-concert talks allowed audience members to learn firsthand about her style of composition and her inspirations in writing Open the Door. Most importantly, they met a composer with a fantastic personality, who presented herself as a very approachable person with an extremely interesting profession.
The benefits of Ms. Walker's visit were also felt by the members of the orchestra. They were able to hear from the composer what Open the Door was about. Several musicians approached Ms. Walker to learn more about her output and happily discovered her broad catalog of chamber music. A lunch with the members of the FWCS Administrative Staff proved very enjoyable and informative, especially to members of the box office and marketing staff who had been speaking and writing about this composer during the weeks prior to the performances.
Gwyneth Walker's visit was greatly enjoyed by students, audience and orchestra members alike. She was an absolute pleasure to work with and any orchestra interested in bringing a "real live composer" into their community would find a "sure thing" in Ms. Walker.
Submitted by Chris Confessore, Assistant Conductor and Education Director, Florida West Coast Symphony (12/94)
---