---
Gwyneth Walker
The Great Lakes
for SATB Chorus and Piano (2018)
for SATB Chorus and Orchestra (2019)
for SATB Chorus, Woodwind Sextet (2.1.1.1.1), Percussion (1), and Piano (2022)

---
Return to Gwyneth Walker Music Catalog

Download an MP3 file of a performance of this work (chorus and orchestra) by the Great Lakes Chamber Orchestra and Chorus, Libor Ondras, conductor.
Download an MP3 file of a performance of this work (chorus and orchestra) by the Toledo Choral Society and Orchestra, Richard Napierala, conductor.
Download MP3 files of a performance of this work (chorus, woodwind sextet, percussion, and piano) by the South Bend Chamber Singers, Nancy Menk, conductor: #1, #2, #3, #4, #5, #6, #7

View the piano/choral score of this composition. Please contact us regarding any performance inquiries for this work which will be available formally from the publisher in Summer 2023. The individual movements will be available separately.

Download a PDF file of "As Birds in Flight" from the full score of this composition.

Download a PDF file of the poetry used in this work.

---
(Photograph of soloists, conductor, and composer after the Toledo Choral Society premiere; Gregory Ashe, tenor; Elizabeth Mitchell, mezzo-soprano; Richard Napierala, artistic director; Gwyneth Walker, composer; Kirsten Kunkle, soprano; Kurt Frank, baritone)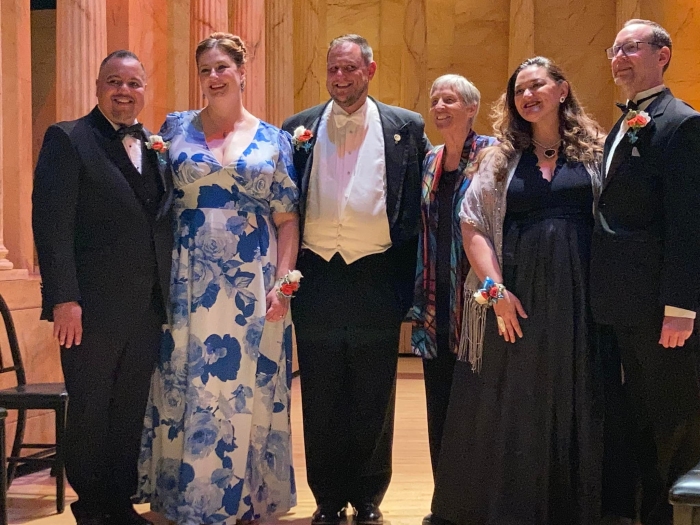 Commissioned by the Toledo Choral Society, Richard Napierala - Artistic Director, for premiere on June 26, 2022, Toledo, Ohio
The Great Lakes is a musical journey across the magnificent five lakes bordering the Eastern US and Canada. Texts by American and Canadian poets have been selected as lyrics for this cantata. The journey moves from East (Lake Ontario) to West (Lake Superior), stopping to explore the unique character of each lake en route.
The songs range from elegiac (such as the Prologue and Epilogue based on poetry of William Wilfred Campbell) to introspective (Walt Whitman's "By Blue Ontario's Shore") to humorous (delighting in the names of the islands in Lake Huron). Several short poems by Carl Sandburg (Lake Michigan) are interpreted as soli or duets, in a more expressive and intimate manner. Lake Superior, of course, is grand!
Since The Great Lakes was commissioned by the Toledo Choral Society, special attention has been given to the Lake Erie song. On request from members of the Chorus, storm references have been included in the music. Yet the voyagers survive!
O! wind so sweet and swift. O! danger-freighted gift
Bestowed on Erie with her waves that foam and fall and lift,
We laugh in your wild face, and break into a race
With flying clouds and tossing gulls that weave and interlace.
Although the preliminary form of the cantata was scored for chorus with piano accompaniment, the final version is now orchestrated. Therefore, the composer has enjoyed exploring orchestral colors inspired by the personalities of the lakes.
Notes by the composer
---
Erratum in first (pre-publication) score:
In "Lyric", measure 60, altos should sing B natural
---