---
Gwyneth Walker
Sweet Land (of Liberty)
for String Orchestra (1996)
for String Quartet (2001)
---
Return to Gwyneth Walker Music Catalog

Listen to a RealAudio (G2) stream of a performance of this work by members of the Colorado Symphony Orchestra.
Download an MP3 file of a performance of this work by the Colorado Symphony Orchestra.

View/download a perusal PDF file of the full score of this orchestral work.

---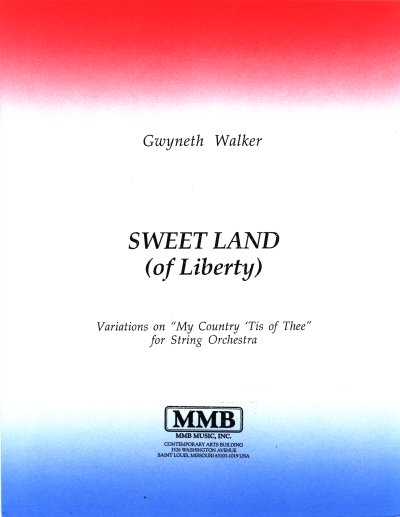 Commissioned by the Abbot Academy Association in celebration of the 350th Anniversary of the Town of Andover, Massachusetts 1646-1996 and dedicated to Robert and Susan Lloyd -- cherished Musicians and Teachers.
The words for "My Country 'Tis of Thee" were written by Reverend Samuel Francis Smith in the town of Andover, Massachusetts in 1831. And today, "America House" still stands proudly in commemoration of this patriotic verse. Thus, it is especially appropriate to use this song for the celebration of Andover's 350th anniversary.
Sweet Land takes the original melody and elaborates it within a 20th-century American musical language. This work might be described as a contemporary excursion based on a historical source. Elements of folk, jazz, blues and rock styles can be heard throughout.
The formal structure is a theme and four variations -- Theme (stately), Variation I (lively), Variation II (in a 'blues' style), Variation III ('furtively') and Variation IV (triumphantly). And although the theme is transformed to the limits of recognition in the 'blues' section, it reappears more noticeably in the 'furtive' motives and asserts itself forcefully at the end.
The intention in creating Sweet Land was to bring renewed energy and affection to a song which has endured for centuries as part of our American heritage.
Notes by the composer
---