---
Gwyneth Walker
High notes: Philharmonic sounds like a symphony
by Jim Lowe, The Times Argus, Barre-Montpelier, Vermont
---
Return to Gwyneth Walker Home Page
Return to Gwyneth Walker Music Catalog
Return to Gwyneth Walker Recordings Page
Read notes for New Millennium Suite (1999-2000) for SATB chorus and orchestra
---
(Photograph of the Randolph Singers and the Vermont Philharmonic; photo by Robert Eddy; second photograph of Louis Kosma; photo by Stefan Hand/Times Argus)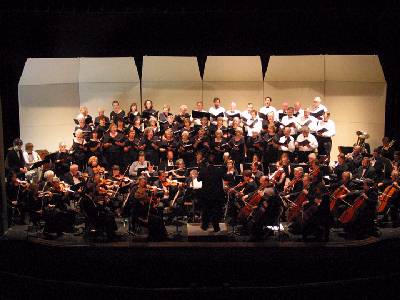 With the first notes of the horn section, it was clear that this was going to be a special concert. Saturday evening at the Barre Opera House, the four horns of the Vermont Philharmonic launched the orchestra quietly but majestically into the Prelude from Englebert Humperdink's popular opera, "Hansel and Gretel."
The strings, woodwinds, brass and percussion followed, to create, with this Wagnerian pastry, the most beautiful sound heard from the state's oldest community orchestra in some 20 years. In the famous "Evening Prayer," the strings played as one, giving the orchestra – for the first time in memory – the anonymous sound of a full symphony orchestra.
The performance, conducted by Music Director Louis Kosma, was expressive, controlled, powerful – often just plain beautiful. It opened the final concert of the 2001-2002 season (which was repeated Sunday afternoon at Randolph's Chandler Music Hall), and marks the end of Kosma's third year as music director. The Metropolitan Opera bass player, who commutes from his New Jersey home to Vermont, has brought to the orchestra – mostly the same players – a new discipline and ability, and it came across loud and clear in this concert.
"Raise Up Your Voices," the title of the concert, featured the Randolph Singers, a local community chorus directed by Larry Hamberlin, in a program of opera favorites. The major work, though, was Braintree composer Gwyneth Walker's entertaining – and sometimes touching – adaptation of three traditional American songs.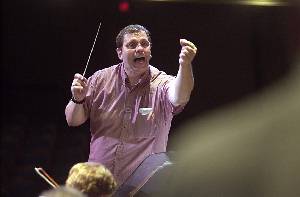 New Millennium Suite had Walker's characteristic humor, novelty and inventiveness, and sometimes more, and, of course, some audience participation. It opened with "Singer Man," a light melody, effectively restless, rhythmic and percussive. The final "Down by the Riverside" was ebullient and even rowdy, with the audience responding loudly and enthusiastically. It was a bit corny, but the audience clearly liked it.
It was the slow middle song, "Peace, I Ask of Thee, O River," that proved tender and touching. The song is essentially a hymn with variations, and Walker brought the strings in and out beautifully affecting a flowing river. For both the chorus, one of the area's best, and the orchestra, it was clearly a labor of love.
Walker is particularly effective in theatrical music, and will be turning her talents to creating a musical theater piece for Randolph's Chandler Music Hall next year. It should prove quite interesting.
From The Times Argus, Barre-Montpelier, Vermont, June 10, 2002
---