---
Gwyneth Walker
Chorale Ends Season on a High Note
by Rie Sadler, Bowie Blade-News
---
Return to Gwyneth Walker Home Page
Return to Gwyneth Walker Music Catalog
Return to Gwyneth Walker Recordings Page
Read notes for Harlem Songs (2000) for SATB chorus and piano
---
(First photograph of members of the Chesapeake Chorale rehearsing Harlem Songs; second photograph of Paul Radin and Gwyneth Walker during a break in rehearsals.)
On May 12, the Chesapeake Chorale finished its 20th anniversary season with a bang. The show, titled "Masterpieces Old and New," was held at St. Elizabeth Ann Seton parish in Crofton. ...
The second performance of the show was a new masterpiece, Harlem Songs, which is the poetry of Langston Hughes set to music. Attending the world premiere performances of this work was the composer herself, Gwyneth Walker.
An Ivy League graduate, Walker resides on a dairy farm in Vermont where she is a full time composer. Her catalogue includes over 120 commissioned works. Not only has she written pieces for nationally known orchestras, bands and choruses, but also writes commissioned work for the community level as well.
Seton Parish provided wonderful acoustics for the performance of Harlem Songs. The first part of the piece is titled "Spirituals." The work is very powerful in both song and accompaniment. It starts off with a jazz beat and, in a few spots, the music conjures up images of butterflies before it breaks into some true gospel fragments.
"Harlem Night Song" brought to mind a lot of images of New York City on a warm evening. Very bluesy with some finger snapping by the chorus, the nocturnal air given off is fabulous. The singing of "I love you" back and forth between members of the chorale supplies a wonderful image of people on rooftops singing out to one another. The hissing in various parts sounds like the air when a subway train rolls by. Add some humming, scat, and some more vocal sound effects and you have a great piece that not only embodies Hughes' poetry about Harlem, but also gives off the imagery of New York City to the listeners.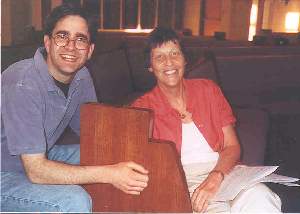 The final piece to Harlem Songs is entitled "Tambourines." Walker uses a variety of ways to make hands and voices sound like the four different ways a tambourine can be played. Very jazzy, the song brings to the audience the spirit of the tambourine. Mixed in with these imaginary tambourines are some gospel songs, including lines used in spirituals. Walker created a wonderful new masterpiece in Harlem Songs and accolades go to director Paul Rardin, accompanist Susan Ricci, and all the members of the Chesapeake Chorale for a wonderful performance of a work that will get every lister's feet a-tappin' and fingers a-snappin'. ...
"It was great," said Crofton resident Joe DiPietro when asked his opinion on the concert. DiPietro, who was invited by a member, said this was the first performance of the Chorale he has attended.
"It was wonderful, I loved it. It was a very moving performance," Bowie resident Jeane Binney remarked. Binney has attended previous concerts of the chorale.
From Bowie Blade-News, Bowie, Maryland, May 17, 2001
---