---
Gwyneth Walker
Standing in Line to Hear New Music
by Jim Lowe,The Times Argus, Barre-Montpelier, Vermont
Published 6/03
---
Return to Gwyneth Walker Home Page
Return to Gwyneth Walker Music Catalog
Return to Gwyneth Walker Recordings Page
Read notes for Climbing to Heaven (2002) for readers, actors, and chamber orchestra
---
(Photograph of Gwyneth Walker at premiere. Photo by Robert Eddy.)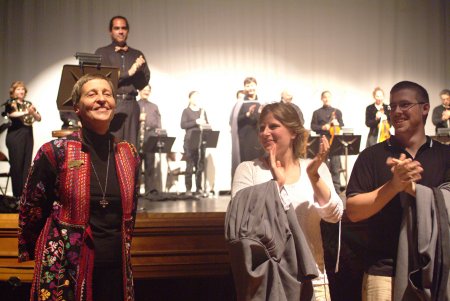 It was an incredible sight Sunday evening, a long line waiting to get inside Chandler Music Hall to hear premieres—of three works of classical music.
But this was Randolph, a town of classical music lovers, and the three composers were from the area towns of Braintree and Brookfield. In short, this was a community celebration.
Often, community concert celebrations can present mediocre performances that still receive enthusiastic standing ovations. The difference here was that these three composers—Erik Nielsen, Kathy Eddy and Gwyneth Walker—are competent professional composers, and the music was good. And so were the compositions.
Walker, a full-time professional composer living in Braintree, presented her first-ever theater piece, "Climbing to Heaven," one that revealed a natural knack for illustrative music. It was attractive, yet not without real musical and emotional depth. In the 30-minute piece, based on "The Wisdom of the Desert," Thomas Merton translations of sayings by the Desert Fathers, monks mime various parables to narration.
The theater was very rudimentary, but not the music. Members of the Montpelier Chamber Orchestra, string quintet and winds conducted by Music Director Catherine Orr, ably performed the colorful music. Invoking myriad musical styles, Walker's work evoked the various moods of the parables – snakes, sour grapes, conflict, etc. The harmonic language had the complexity and subtle modern coloring of Stravinsky, yet the superficial sheen wasn't far from Broadway. This is really good theatrical writing.
Orr and the entire Montpelier Chamber Orchestra performed Eddy's "Vermont Rhapsody." It was the Randolph United Church of Christ pastor's first full-length orchestral work. Written much in the Neo-romantic style of Grofé and Respighi, Eddy managed real beauty using a broad palette of orchestral colors illustrating various pastoral scenes.
Eddy's music would have been more dramatic had there been more contrast. Rather than the three movements contrasting one another, each movement is a work entirely in and of itself, with subtle but seldom striking contrasts of mood. Still, Eddy shows an understanding of orchestral coloration, and has created moments of genuine beauty.
Nielsen, who lives in Brookfield, is quickly becoming one of Vermont's best-known composers, particularly for his opera with Wolcott poet-playwright David Budbill, "A Fleeting Animal." "Like the Clouds," a setting of five Budbill poems describing the seasons, is written for chorus and a diverse instrumental ensemble. It was composed specifically for Sunday's performers, a group of high school instrumentalists and an adult chorus, all directed by Larry Hamberlin.
Nielsen successfully contrasted a mostly tonal choral part with a harmonically complex instrumental part. The attractive music invoked a variety of musical styles and moods ranging from quiet and haunting to Dixieland raucous to Kurt Weill sardonic. Hamberlin's chorus always sounded good, but the student instrumental ensemble, with its three saxophones, was particularly enthusiastic and colorful.
Sunday's concert was a tribute to a whole community. Not only does the Randolph area possess three fine composers, their community embraces their efforts wholeheartedly.