---
Gwyneth Walker
Now I Become Myself
for SSA Chorus and Piano (1999)
---
Return to Gwyneth Walker Music Catalog
Read a brief harmonic analysis of this work by the composer.
Download an MP3 file of a performance of this work by the St. Louis Women's Chorale, Scott Schoonover, director.

Listen to a RealAudio (G2) stream of a performance of this work by Vox Femina Los Angeles, Iris S. Levine, conductor.
Download an MP3 file of a performance of this work by the Luther College Pike Kor, Sandra Peter, director.

Download a PDF file of the poetry used in this work as text for printing in concert programs.

---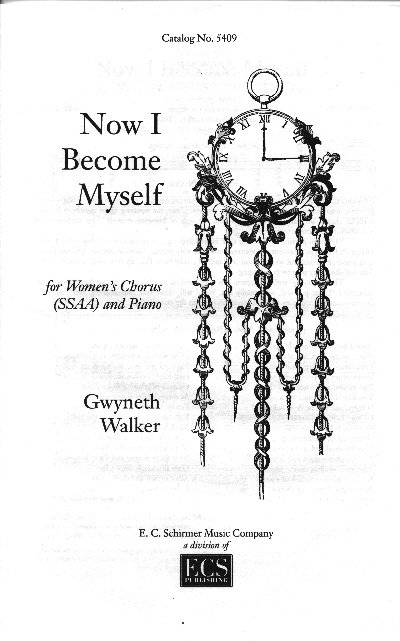 (Photograph of Gwyneth Walker with conductor Iris Levine.)
Commissioned by Vox Femina Los Angeles under a matching grant program from GALA Choruses.
This choral setting of May Sarton's poem, "Now I Become Myself," aims to capture the process of growing into one's own self as a complete person. Thus, the opening eight measures present forceful chords in piano and chorus -- the strength of knowing oneself. This section is an introductory statement.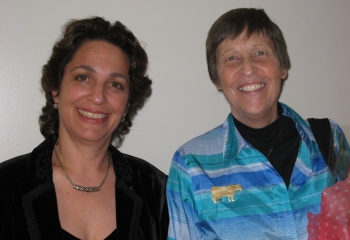 The main portion of the song then begins with rapid accompaniment patterns and vocal effects ("tktk") to represent the scattered and scurrying person, running through life, searching. The music slows with the words "Now to stand still, to be here, feel my own weight and density..." The self-discovery process is unfolding.
The "scurrying" patterns return, this time yielding to a full growth into the glorious final statement "I, the pursued, who madly ran, stand still and stop the sun!" And the opening piano chords now return in triumph beneath the chorus.
Notes by the composer
---