---
Gwyneth Walker
Evangeline
a chamber opera
for SATB Soli, Piano, Violin (Fiddle), and Narrator (2014)

---
Return to Gwyneth Walker Music Catalog
Read key/mode analysis for the scenes of this work.
Read Evangeline Premiere Sells Out by Wendy Elliott, Kings County News.
Read Opera Comes to Space Coast as Holy Trinity Episcopal Academy Presents "Evangeline" by Michelle Salyer, Holy Trinity Episcopal Academy.

Download an an MP3 file of a performance of the aria "O Gabriel" by Sarah Collins, soprano, Laurel Ann Maurer, flute, and Claire Black, piano.

View/download a PDF file of selected sample pages from the score of this work.
N.B.: The initial printing of this work had an error (garbled lyrics) on pg. 72 of the score. View/download a corrected copy of page 72 here.

---
(First photograph of Gwyneth Walker with the cast in a performance of the opera in the historic the Covenanter Church, Grand Pre, Nova Scotia, Canada; Second photograph of Gabriel and Evangeline as performed by students at Holy Trinity Episcopal Academy, Melbourne, Florida)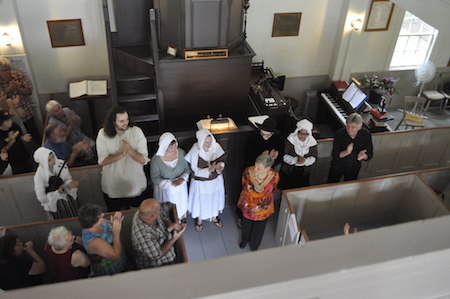 The Characters

Evangeline Bellefontaine - Soprano
Benedicta Bellefontaine (mother of Evangeline) - Alto
Gabriel Lajeunesse - Tenor
Father Felician (the village priest) - Baritone
Background

Evangeline tells the story of the expulsion of the Acadian people from Nova Scotia in 1755-64. Forced into exile by the British, the Acadians were separated from one another, and traveled the US and abroad in search of loved ones. Many Acadians resettled in Southern Louisiana, and became known as "Cajuns."
Henry Wadsworth Longfellow wrote his poem, "Evangeline," in 1847. Although the characters are fictitious, their story represents a very real and tragic series of events.
The opera focuses on the plight of Evangeline, a young Acadian woman. She is betrothed to her childhood sweetheart, Gabriel. However, before they can marry, the British soldiers come to their town and force the residents from their homes. Evangeline and Gabriel are separated. They travel the United States searching without success for one another, from the Western plains to Southern Louisiana. As her hope of finding Gabriel diminishes, Evangeline turns to her Catholic faith to sustain her. During the last years of her life, she becomes a Sister of Mercy, tending to the poor and the sick. It is there, nursing the ill, that she finds Gabriel, on his deathbed. Their hearts join forever, and Evangeline bows her head to say "Father, I thank Thee."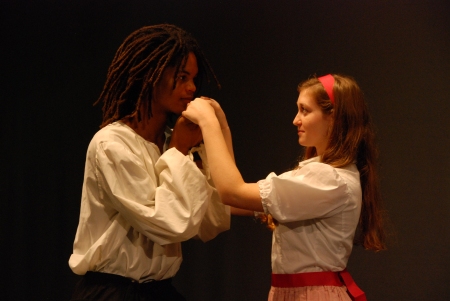 Several Acadian musical elements are woven into this opera. A French/Acadian dance tune, "Tous Les Bourgeois de Chartre," opens and closes the music. This song was mentioned within the Longfellow "Evangeline" poem as a fiddle tune associated with Acadian culture. In addition, the chant (plainsong) "Ave Maris Stella" ("Greetings to the Star of the Sea") appears throughout the story. In the nineteenth century, French words were added to this song to form the Acadian National anthem.
Notes by the composer
---