---
Gwyneth Walker
Duets at Home
for Viola and Cello (2020)
---
Return to Gwyneth Walker Music Catalog

View/download a PDF file of the score of this work.
View/download a PDF file of the parts of this work.

---
(Photograph of Suzanne Corey-Sahlin and Gunnar Sahlin playing in Sweden.)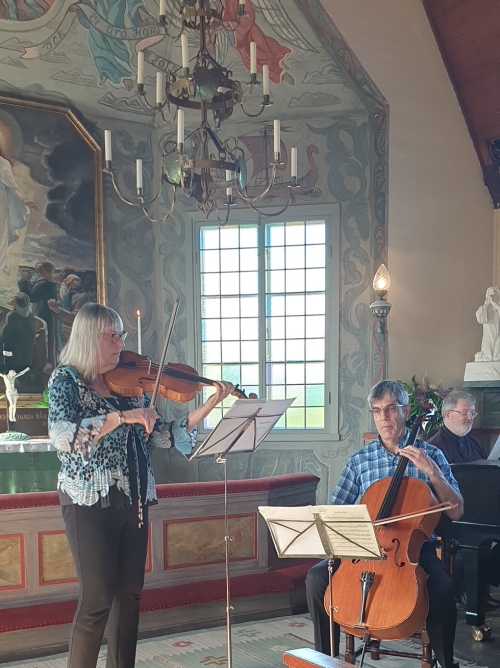 Duets at Home were composed during the Spring of 2020, when the Covid-19 pandemic kept many musicians isolated at home, away from their customary concert travels. For the fortunate "paired musicians" (married couples, partners living under the same roof), duets offered a solution for music-making. Hence, Duets at Home were composed for Suzanne Corey-Sahlin (Viola) and her husband Gunnar Sahlin (Cello), friends and neighbors of the composer.
The first three movements of this suite represent indoor activities -- a "Morning Call" to awaken, "Listening" to one another, and "Scurrying" about the house with restless energy. Finally, the players feel confident that they will survive this time of isolation. In triumph, they play a unison theme, "We Shall Return!"
"Familiar Encounter" is an adaptation of an earlier duet (for Trumpet and Bassoon) which seemed especially appropriate for a married couple. This intimate "encounter" (a dance) incorporates strains from the song "Tea for Two." At the end, the players bow to one another. Formal manners are still valued, even during this Stay-at-Home time!
Notes by the composer
---