---
Gwyneth Walker
Blessings from the Children
for Two-Part Treble Chorus and Orchestra (2010)
---
Return to Gwyneth Walker Music Catalog

Download an an MP3 file of the first movement of this work performed by Rogers Adventist School Singing Scholars and the Walla Walla Symphony, Terry Koch and Yaacov Bergman, conductors.
Download an an MP3 file of the second movement of this work.
Download an an MP3 file of the third movement of this work.

Download a PDF file of the poetry used in this work as text for printing in concert programs.


---
(Photographs of the premiere with the Rogers Adventist School Singing Scholars and the Walla Walla Symphony with Yaacov Bergman and Terry Koch, conductors.)
For the Walla Walla Symphony Orchestra, Yaacov Bergman, Music Director and the Rogers Adventist School Singing Scholars, Terry Koch, Music Director.
The texts for Blessings from the Children are found in the collection, In Every Tiny Grain of Sand - A Child's Book of Prayer and Praise, by Reeve Lindbergh. For the first song, "The Blessing of Light," the lyrics are taken from a traditional Scottish blessing, adapted by the composer. The second and third songs use familiar sacred texts, adapted by Reeve Lindbergh.
Each of the blessings (songs) has its own distinct character, presented through different tonalities, textures and thematic patterns. "The Blessing of Light "shines through a luminescent D Major tonality. The accompaniment patterns form a rapidly flowing filigree around the vocal melody. Although the vocal lines are simple, they rise and fall through a series of blessings. At the end of the song, the voices overlap in a shimmering and scattering manner.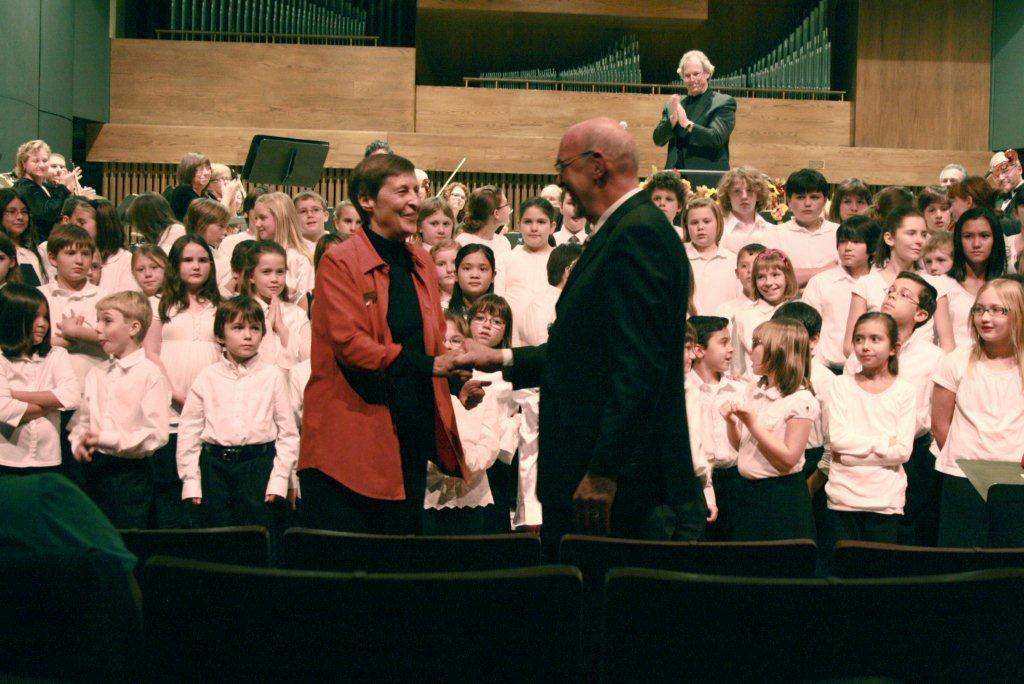 "The Circle of Days" is based on circular patterns introduced in the accompaniment, and then adopted by the singers. The lyrics for this song are based on the "Canticle of the Sun" by St. Francis of Assisi. And the music itself is inspired by the familiar hymn, "All Creatures of Our God and King." Yet the song soon finds its own path, and circles away on its course. The home key of Eb Major seemed like a suitably "earth and creatures rooted" tonality for this music.
The lyrics for "On Morning Wings" are especially lovely in this adaptation by Reeve Lindbergh of Psalm 139. The central image is of the child as a bird, held and protected in God's hands. The child soars "high as heaven bright" to greet God, "in light and shadow, fire and air." These lines of text inspire the music to rise. And, as the song progresses, the melodic lines grow in ascending scalar patterns. The climax is reached on the words "Know me, lead, guide my way through every hour of every day." As the child joins with God, the music rises to its highest range. And then the children offer their final blessings on us all.
Notes by the composer
---