---
Gwyneth Walker
A Time to Vote
for Orchestra (2019)
---
Return to Gwyneth Walker Music Catalog

View/download a perusal PDF file of the full score of this orchestral work. Parts and MP3s of computer mock-up demos are available upon request.
View/download a PDF file containing additional readings that may precede each movement in performance.

View/download a video of the composer speaking about this work and her family suffragette history.

---
(Photograph of Gwyneth Walker with the trumpeters of the Lake Forest Civic Orchestra after their performance.)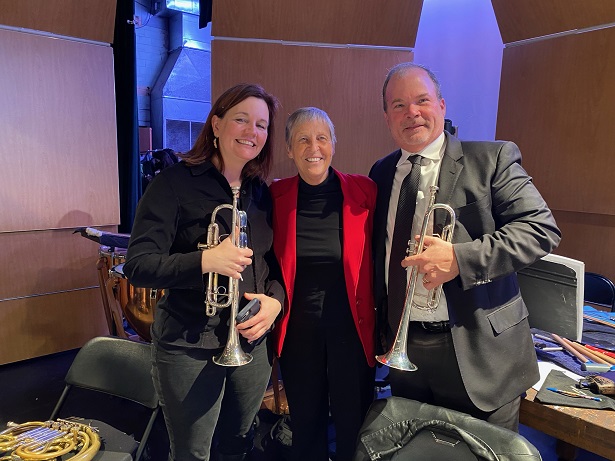 Music to celebrate the centennial of the passage of the 19th amendment, granting the women's right to vote: 1920-2020
Three movements, totaling ca. 8 minutes: Celebrate, Gathering Strength, Looking Forward ("Failure is Impossible!")
A Time to Vote was inspired by the efforts and achievements of the women (and men) of the past who worked so tirelessly to gain the women's right to vote. These were the Suffragettes, their supporters, and those who came before. All praise be given!
This new orchestral tribute takes the form of three short movements. The opening Celebrate is, of course, energetic. Gathering Strength allows time to unfold, from solo instruments to a joining in of the full ensemble. Looking Forward is inspired specifically by the Susan B. Anthony quote "Failure is Impossible!" This movement has but one theme, which continues to grow (transposing upward), always moving forward.
It is envisioned that A Time to Vote be programmed during the 2020-21 season, perhaps to open the season. Voting is as essential in 2020 as it was in 1920!
Notes by the composer
---