---
Gwyneth Walker
Acquaintance With Nature
for SATB Chorus, Clarinet, and Piano (2002)
---
Return to Gwyneth Walker Music Catalog
Read a review of Acquaintance with Nature (2002) for SATB chorus, clarinet, and piano by Marilyn J. Rowland, The Enterprise.

Download an MP3 file of a performance of this work by the Wichita State University A Capella Choir, Tom Wine, conductor.
Download an MP3 file of a performance of this work by Consort Columbia, Robert Bode, conductor.
Download an MP3 file of a performance of the third and seventh movements of of this work by Peter Shea, tenor and the South Hadley Chorale, Jonathan Harvey, conductor.

Download a PDF file of the full choral score of this composition. This score may be printed and duplicated for the purposes of performances. However, please send a message to performances@gwynethwalker.com, notifying us of the date/location of the performance.

Download a PDF file of the clarinet part of this composition.

Download a PDF file of the Henry David Thoreau text suitable for printing in concert programs.

---
(First photograph of Gwyneth Walker, with her aunt Mary Walker, at First Unitarian Church in Sudbury, Massachusetts after a performance of this work in a service dedicated to the memory of GW's uncle, Eugene H. Walker; second photograph of Gwyneth Walker with Debra Morris-Bennett, music director at First Unitarian Church.)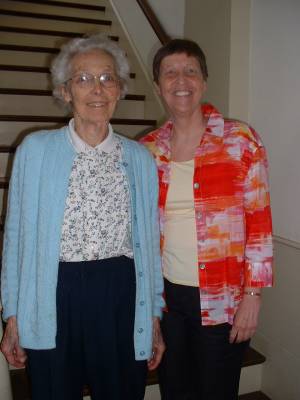 Commissioned by Northsong -- Newport, Vermont, Anne K. Hamilton, Music Director.
The texts for Acquaintance With Nature are taken from Thoreau's Walden and the Journals, dating from the 1850s. These writings chronicle the writer's sojourns in the woods of Massachusetts. But, Thoreau's exploration is beyond a geographic location. He is seeking the depths of life's meaning, the truth that comes when one chooses to "live deliberately, to live deep and suck out all the marrow of life." He wishes to know "an entire heaven and an entire earth!"
His writings are sincere, and often ecstatic -- a reverence for the beauty of the woods; a delight in the small berries and cobwebs; the fresh energy of "mornings of creation." Seeking eternity, he writes: "I would drink deeper; fish in the sky, whose bottom is pebbly with stars."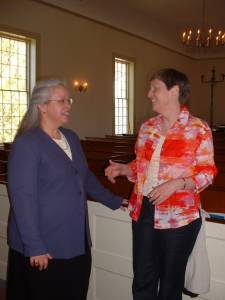 Nine short excerpts of Thoreau's writings have been chosen as the basis of the musical interpretation. The Prologue and Epilogue (#1 and #9) are spoken by a Narrator, with instrumental accompaniment. This is the young writer heading off into the woods, and later returning home. The seven central sections are sung by the chorus, with instrumental accompaniment. The listener might prefer to hear these choral settings as "journal entries" rather than songs. These are brief observations on nature, each focusing on only one or two images or perceptions. One might imagine Thoreau stopping in his walk to examine each detail of the world around him -- seeking acquaintance with nature.
Notes by the composer
---
(First photograph of Gwyneth Walker and conductor Robert Bode at a performance of the work by Consort Columbia; second photograph of narrator Bill Gilbert, dressed as Henry David Thoreau.)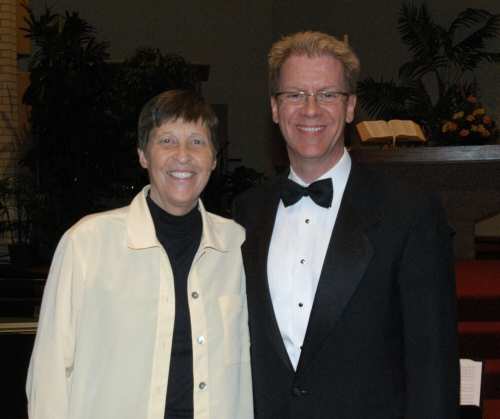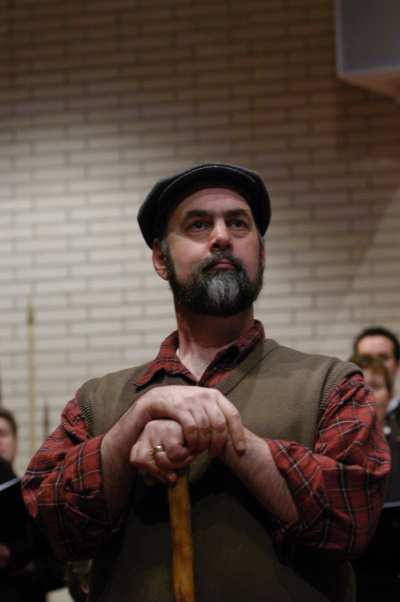 ---