---
Gwyneth Walker
Cross-Country Phone Friendship Leads to Walla Walla Concert
by Richard S. Clayton, The Walla Walla Union Bulletin, Walla Walla, Washington
Published 10/22/95
---
Return to Gwyneth Walker Home Page
Return to Gwyneth Walker Music Catalog
Return to Gwyneth Walker Recordings Page
Read notes for An American Concerto (1995) for violin and orchestra
Read notes for Fantasy Etudes (1992) for violin and piano
---
(First photograph of Susan Pickett and Gwyneth Walker in rehearsal for the concerto; second photograph of Susan Pickett, Gwyneth Walker, and conductor Yaacov Bergman after the world premiere.)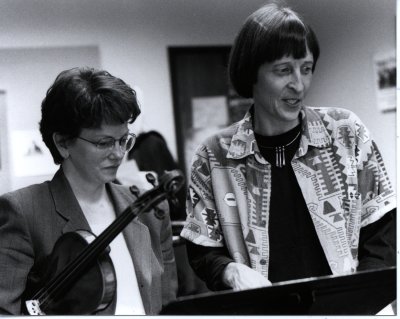 A thank-you card probably would have sufficed.
Instead, Gwyneth Walker decided on an even more gracious gesture when Susan Pickett and her group recorded one of the Vermont composer's works.
Walker wrote a concerto for Pickett, concertmaster and lead violinist for the Walla Walla Symphony.
The Symphony will perform the world premiere of this work, Walker's An American Concerto, at Tuesday's season opening concert. Pickett will be the soloist.
Walker will attend the premiere, as well as offer a public lecture Monday on composing in a high-tech world. Her talk will be at 1 p.m. in Chism Hall at Whitman College's new Hall of Music, located off Park Street. It's free and open to the public.
Walker and Pickett's relationship is a testament to less than high-tech tools. They became musical friends over the phone and through the mail before meeting for the first time in person Saturday.
Pickett first contacted Walker more than a year ago. She sent the composer a recording of one of Walker's pieces, Fantasy Etudes, which Pickett and Walla Walla College music faculty members Debra Richter and Sonja Gourley later recorded on a compact disc.
Walker liked what she heard and told Pickett about her plans to write concerti with solos intended for members of symphonies -- not high-profile touring performers.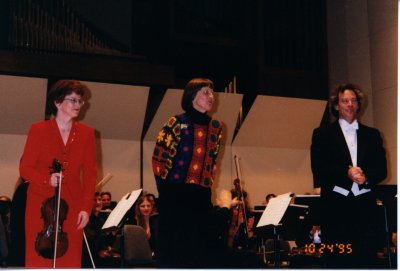 "We don't need to bring in famous names," Walker explained. Members of most orchestras "can play almost as well."
Her catalog contains more than 100 commissioned works for orchestra, band, chorus and chamber ensembles. About 15 of her works have made it to CD.
The 48-year-old composer's most famous piece may be Match Point, which was performed at Lincoln Center in New York City in 1988. Tennis legend Bille Jean King conducted the orchestra using a racquet as her baton. All the major news networks covered the concert, Walker said. ...
When Pickett expressed interest in the format of Walker's new concerti, the composer decided to write one for her new Walla Walla friend as repayment for recording Fantasy Etudes.
"A composer would never send a thank-you note," Walker said. "A composer would send music."
She wrote Pickett's 15-minute concerto this summer. As she completed portions of it, she mailed the written music to Pickett, who played it back on her violin over the phone.
Sections of the concerto are fashioned after Fantasy Etudes and the jazz-influenced movements Pickett appreciates. Also, noting Pickett's sense of humor during their telephone conversations, Walker added several comic touches. They include portions where the violinist must tap the strings with her fingers and others where she must create "little squeaks" from the instrument.
"I would imagine (Pickett) would smile when she makes some of these sounds," Walker said with a chuckle. "I would hope she would."