---
Gwyneth Walker
Comes Gwyneth Walker Comes Home to New Canaan
by Lois Street, The New Canaan Advertiser
Published 2/22/08
---
Return to Gwyneth Walker Home Page
Return to Gwyneth Walker Music Catalog
Return to Gwyneth Walker Recordings Page

---
(Gwyneth Walker being presented with the proclamation of "Gwyneth Walker Day" in New Canaan, Connecticut.)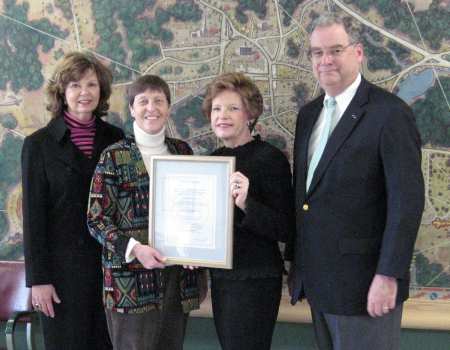 Music. Religion. Tennis.
Three passions shaped composer Gwyneth Walker as she grew up in New Canaan. Music — specifically, the impulse to imagine new music and write it down — was an enthusiasm she kept pretty much to herself. Her strong religious inclinations developed more publicly at New Canaan's Congregational Church, where she joined organized activities such as the Youth Choir. Her spiritual evolution had its private side as well. She spent many hours sitting alone in the church sanctuary, "always a very sacred place" in her life, she said.
The most visible passion of Dr. Walker's youth was tennis. "New Canaan is a sports-oriented town. Playing tennis is a wonderful way to meet friends and have fun," she wrote in an email interview. As a kid she spent a lot of time at the New Canaan Country Club (her grandfather, George Frank, was a founding member), and she often competed in the annual Town Tennis Tournament. Now living in Vermont, she continues to play tennis several afternoons a week. But her favorite place is still Mead Park back "home" in New Canaan, and she revisits the park whenever she's in town.
And Dr. Walker happens to be in town. Her presence, though, has nothing to do with tennis. On Sunday, the Congregational Church choirs — including 25 singers in the Chancel Choir and 15 singers from the youth choirs — will perform a selection of Dr. Walker's works at the 9:30 a.m. and 11:15 a.m. services. Each service will conclude with "In Celebration," her organ voluntary, played by music director and organist Jo Deen Blaine Davis. The public is welcome at both services.
"We are doing five of Gwyneth Walker's pieces. Some will be accompanied [by me] on organ and some on piano by Justin Macurdy from Stamford," Dr. Davis explained. "Listeners will hear texts with a variety of harmonies, textures, vocal techniques, and drama. There's something for everyone as the music will enhance the service," she said.
Her day
First Selectman Judy Neville proclaimed Sunday "Gwyneth Walker Day" in New Canaan, where Dr. Walker's parents, John and Adele Walker were long-time residents. The family lived on Seminary Street from 1947 to 1957, and on Oenoke Ridge from 1957 until Mrs. Walker's death in 2000.
Gwyneth Walker left New Canaan at age 14 to attend high school at Andover. At 15, she discovered she had Quaker roots going back 11 generations in New England. Since then, the Quaker faith has "claimed me very strongly," she said. After high school, she attended Brown University, and then went on to the Hartt School of Music, where she earned a doctor of musical arts degree.
She moved to Vermont to find the peace and quiet conducive to composition. She had an impossible dream: to purchase "a lovely country home" where she could feel the closeness to nature that inspires her. But even with her professional success — Dr. Walker is the nationally best-selling choral composer for her publisher, E. C. Schirmer — she's well aware that "composing music is not a highly lucrative occupation." So she rents a house on a dairy farm in Braintree, Vt., where she overlooks 800 acres and almost 1,000 cows. "Being a renter on a dairy farm provides me with a lot of open land," she said, "even if it's not my own!"
Her music
Dr. Walker, who will be 60 next month, has written more than 160 commissioned works for orchestra, band, chorus and chamber ensembles. Critics applaud her work for its tremendous energy, dramatic force, and strong sense of humor. Audiences appreciate the diversity of her compositions and her explorations of a variety of moods. "My music is typically described as 'American,' and my background is entirely in American music, including folk and rock," she said.
For all her themes and variations, however, Dr. Walker considers herself essentially "a composer of faith." Her Quaker faith "is the most important part of my life and of my music."
One of Sunday's selections, How Can I Keep From Singing?, is based on a Quaker hymn dating from the early 1800s. It speaks in part of prison cells and dark dungeons, recalling Quakers who were imprisoned for their refusal to bear arms. In arranging the song, Dr. Walker made it uniquely her own. "I changed the original triple meter into a duple meter for the extra strength and triumph that comes with duple meter. I also added quite a few lyrics!"
Dr. Walker's religious inspiration notwithstanding, she came to national attention with Match Point, a breakout composition blending her sense of humor and love of tennis. Written in 1988 for both band and orchestra, Match Point is a four-movement dramatization of a tennis point. Required performance equipment includes yellow tennis balls for dropping on the drums and muting the brass. The conductor must use a tennis racquet for a baton.
"I combined my New Canaan background of playing tennis with my music school training," she said. The piece was a hit. "To my amazement, Billie Jean King conducted it at Lincoln Center!" Since then, Dr. Walker's works have been performed around the country, with a number of concerts at Carnegie Hall.
Vermont has embraced Dr. Walker enthusiastically. As part of her 60th-year celebration, the Chandler Music Hall in Randolph, Vt., will host a two-day festival in October, titled "Gwyneth Walker and Friends — a Celebration of the Music Makers." And the Vermont Arts Council has given her a lifetime achievement award.
Coming home
To Gwyneth Walker, "coming back to my hometown as a composer is a wonderful completion of my personality." When she lived in New Canaan, her youthful persona was defined mostly by tennis, partly by religion. Her devotion to music remained essentially out of sight.
"Now I am able to bring this inner life out into full expression," she said. "It has been a long journey. And I am excited to come home!"