---
Gwyneth Walker
by Chris Costanzo, The Randolph Herald, Randolph, \Vermont
Published 10/11/2007
---
Return to Gwyneth Walker Home Page
Return to Gwyneth Walker Music Catalog
Return to Gwyneth Walker Recordings Page

---
(Photograph of Gwyneth Walker in her home studio. Photograph by Robert Eddy.)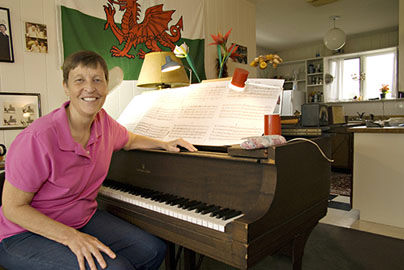 For a composer who lives on a dairy farm, Braintree's Gwyneth Walker is astonishingly prolific.
Her music is performed regularly throughout the country, and her choral works are among the most frequently performed today. She's produced over 170 commissioned works for orchestra, band, chorus, and chamber ensembles.
All that musical productivity will culminate this weekend as Walker celebrates her forthcoming 60th birthday with a two-day festival of her music in Chandler Music Hall in Randolph.
That event will also see a performance of her latest premiere. For its own 100th birthday, the Chandler Center for the Arts commissioned a new Gwyneth Walker choral composition. The aptly-titled Every Life Shall Be a Song will be performed by singers from 12 area choruses on Sunday, under the baton of Piero Bonamico.
We recently interviewed Walker at her Braintree home in anticipation of this weekend's festive events. We were struck immediately by her energetic and expressive personality and her home's lean and meticulous organization-all traits that we have detected in her art as well.
Numerous shelves in various rooms were neatly piled with countless musical scores. There were several desks, computers, electronic gadgets, and a couple of pianos-everything strategically placed for the greatest efficiency.
After a tour of her living area, Walker led us upstairs, through a door bearing the sign "Composers Only," to her inner sanctum where she enjoys a stunning view of the surrounding Vermont farmland, and has access to a long deck where her favorite woodpecker and other birds mooch at her feeders. It is here that for almost 30 years she has done the bulk of her work.
It is not surprising that one sees a lot of sheet music throughout Walker's home. She began composing at the age of two—yes, TWO-and has saved much of her work over the years.
Walker remembers vividly when she was first introduced to music as a child. It was when her older sister played a piece-Beethoven's "Für Elise-on a piano that happened to be over Gwyneth's crib.
"The music was full of life and energy. I heard it leaping out at me," she said, gesturing with her arms. "There was something almost physical about it."
A little later, two-year-old Gwyneth toddled to the piano, hit some random keys and, after awhile, was able to pick out the notes to the song. She then started making up her own pieces. By the first grade she was organizing her friends into little orchestras to play them.
Although Gwyneth Walker's lifelong love-affair with music began early, she had no thought at first of making it her profession. She passed through her childhood and adolescence without any serious musical training except exactly four lessons on the piano.
She did compose music throughout her school days, and sang in school choirs, and played such instruments as the clarinet, ukulele, guitar, and even the bugle. But during her youth she was largely self-taught in music, until her senior year at Abbott Academy in Massachusetts, when she took a course in music theory.
Walker also had other interests. She excelled at sports and was something of a tennis prodigy. She loved science, undoubtedly influenced by her physicist father. In fact, when she got to Brown University she intended to major in physics.
To this day she retains a strong interest in science and in sports. She plays tennis regularly, and is an electronic gadget enthusiast, as anyone who sees her home will attest.
Her eyes shone as she said with obvious pleasure, "I even have a 'slingbox'' that enables me to log into TV programs on my home television set through my laptop computer whenever I'm traveling."
Though she intended to study physics, Walker quickly found that the Brown course catalog contained many irresistible offerings in music, and pretty soon she was happily studying advanced music theory as well as music history and literature.
She began to write and arrange music for the Brown Symphony Orchestra and was soon saving all her compositions systematically. She ended up with a degree in music.
While in college, Walker spent one summer at the Aspen Music School where she studied with the great French composer Darius Milhaud, whose Creation of the World is one of the 20th century's most enduring compositions.
After Brown, Walker studied at the Hartt School of Music in her home state of Connecticut and earned her master's and doctor's degrees. At Hartt her good fortune in music teachers continued. She was a pupil of Arnold Franchetti, a well-known composer who had studied under Richard Strauss and was the son of Alberto Franchetti, an important Italian opera composer.
"It was the case of a maestro from Italy meeting a folksy New England composer. He taught me a lot," Walker said.
After her doctorate, Walker followed the advice of her teachers and entered academia, teaching music at the Oberlin College Conservatory in Ohio and later at the Hartford Conservatory in Connecticut. But the idea of being a full-time composer had begun to percolate in her mind.
While at Oberlin she noted that there was no shortage of those who were asking her to write or arrange music, and she began to say to herself, "I can do this."
A few years later, Walker spent a few months in London attending concert after concert, day after day. Once again, she began to say to herself, "I can do this."
Taking the Plunge
"Many people told me I would be 'selfish' to dedicate myself solely to composing," she told us, "but I had been hearing an inner voice telling me that it was the thing to do, and that it was meant for me to do it."
In 1982 she followed that inner voice, left teaching, and from then on has worked solely on musical composition. The search for that inner voice, and her commitment to it, is an important aspect of Walker's character, in keeping with her strong Quaker faith that emphasizes one's direct search for inner guidance.
Walker explained that when she was a youngster she was involved in a tennis event on the grounds of a Quaker school in Pennsylvania. While there, she happened to attend a Quaker meeting and was much taken by it. She became a Quaker. Later, she was delighted to learn that several generations of her mother's family, prior to her grandparents, had also been Quakers.
"I owe so much to my Quaker faith," she said emphatically. "It helped me realize that composing is what God wants me to do." Later she responded to a fan letter, "… music is a gift from God…if one pursues this craft, develops one's skills … this is a form of worship."
In 1983, Walker searched for a peaceful venue for composing. She rented a place on a farm in Braintree and has been a tenant there ever since. Years before, she had fallen in love with Vermont when she attended Camp Aloha in Fairlee. She had also been involved in writing and arranging music for the Randolph Singers, so she knew this area and had friends here.
She found a growing demand for her work in the form of commissions, and she worked steadily at them.
"I work seven days a week, about 3-4 hours a day composing, and about 5-6 hours a day on administrative work relating to my compositions," she told us. She produces about 12-20 pieces a year, ranging from simple songs to large-scale works.
Original Style
One is tempted to attribute the appealing vividness and originality in Walker's music to her independence from rigorous formal instruction during her formative years, and to credit her later training for the often-praised technical craftsmanship of her music.
It is hard to categorize Walker's music, which ranges from complex symphonic works to songs. She has been praised for her ability to evoke different moods-moods which can best be described as American in their artistic antecedents.
Some reviewers have detected the influence of Aaron Copland, but Walker denies it.
"My style was formed before I heard Copland's music," she says, but she does acknowledge Celtic and Italian influences in her work, as well as its American character.
So far, Walker discerns three phases in her artistic development-an "academic" phase when she was still in school, an "early period" covering approximately 1975 through 1990, and her current "middle period."
Now that her music is reaching so many people, Walker believes the time is ripe to plumb her craft even more deeply. She is planning to initiate a fourth phase in her development and will start next summer. This, she said, will be her "exploratory period," during which she plans to include staged works that will combine music with reading, drama, and poetry.
Her goal is to produce "well-crafted works strengthened by a greater depth of thought." She has a list of projects that she plans to complete, including a chamber opera.
At 60, Walker shows no waning of her enthusiasm, nor any sign of letting up.
"I will never retire," she said flatly. One thing is certain. She is leading exactly the sort of life she has always wanted, doing exactly what she has always liked to do, and creating much joy for others through her efforts.