---
Gwyneth Walker
King's New Racket
by Robert Kimball, the New York Post, New York, New York
Published 1/23/88
---
Return to Gwyneth Walker Home Page
Return to Gwyneth Walker Music Catalog
Return to Gwyneth Walker Recordings Page
Read notes for Match Point (1985) for orchestra
---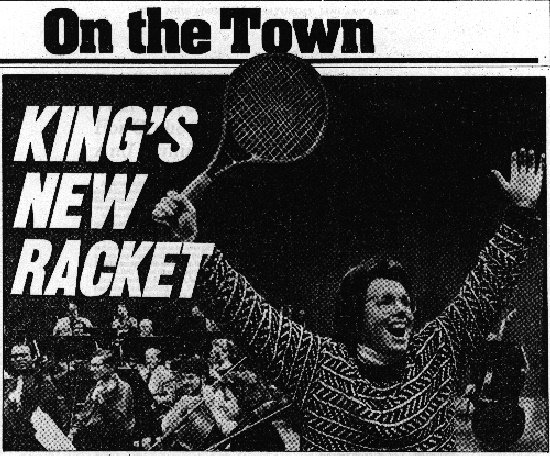 If you want to see Billie Jean King, complete with tennis racquet, then you'll find her holding court at -- of all places -- Avery Fisher Hall today.
The legendary tennis champion's racket these days is as a commissioner of Domino's Pizza TeamTennis, a nation-wide co-ed, summertime, recreation league with eight franchises (including Somerset, N.J.) and she'll be joining Dino Anagnost and the musicians of the Little Orchestra Society as soloist and emcee in their "Sports in Music" program.
Today's concert will be given at 11 a.m. and then replayed at 1 p.m. as part of the Little Orchestra's "Marvelous Happy Concerts for Young People" series (tickets $13, $15, and $20 are available at the Avery Fisher Hall box office in Lincoln Center).
Yesterday, Billie Jean, clad in a black and white striped sweater, baggy warm-up pants and white tennis sneakers, took a joyous part in the rehearsal.
Anagnost's spplendidly planned and carefully scripted program (these are the best concerts of their kind in the city), opens with the "Galop" from Khachaturian's Masquerade Suite.
It was followed by a procession of young athletes -- football, basketball, baseball and soccer players, fencers, martial artist and track and field competitors, cheerleaders and flag-bearers -- parading across the stage to the stirring sounds of John Williams' Olympic Fanfare and Theme.
"I've always loved music," said King a six-time Wimbledon and four-time U.S. Open champion. "It could always be heard in our home and my parents still go out dancing twice a week. When I was a kid, I woke up to Benny Goodman, Glenn Miller and Count Basie. I'm sorry for kids who don't have music in their lives."
After Waldteufel's Skater's Waltz, a group of boys accompanied the second movement of Beethoven's Ninth Symphony bouncing basketballs in rhythm off the Fisher Hall stage floor.
Leroy Anderson's perky Home Stretch is played to demonstrate ever-quickening tempos, as the youngsters are urged to pay close attentntion to the final measures of the piece when the music illustrates the end of a horse race.
Billie Jean comes on next. She is the soloist in Gwyneth Walker's brief, delightful Match Point, a four-minute evocation of a tennis match.
Walker, who lives and works in a studio on the Brainstorm Dairy Farm near Randolph, Vt., was herself a competitive tennis player. "Billie Jean was my idol," she says. "So you can imagine how exciting it is that she's performing in a piece of mine."
While waiting to go on, Bille Jean goes over her cues, checks her inventory of tennis racquets, balls and other paraphernalia and said, in response to a question from an onlooker, "This is tougher than Bobby Riggs. At least then I was doing something that I was supposed to know how to do."
As the young athletes prepare to enter, she gives two of them a quick lesson on how to bounce a tennis ball of a racket properly. She exhorts others ("Don't forget your props, kids.") and she paces a little saying, "they'll laugh when I make mistakes because it will make the whole thing seem more human to them."
Now is her turn. She and conductor Dino Anagnost come on stage carry tennis equipment. Bille Jean goes over to the podium and "tunes up" her racquet as if it were a Stradivarius, which, in her career, it was. She tells Anagnost they have to warm up and she encourages him to touch his toes.
Then Bille Jean heads for the timpani and begans to drop yellow tennis balls on the drums. As the music begins, the strings will simulate forehand and backhand with their bows, and the brass will use colored tennis balls as mutes.
Anagnost exchanges his baton for a tennis racket and "the point" is played. He and Billie Jean rally to the accompaniment of tongues click and cheek pops from the musicians which suggests the sound of rackets hitting balls. After returning a lob, she ends the point with an overhead smash that is strong enough to rustle music pages on the stands of nearby cellists.
The match is over, a trophy is presented -- an oversized yellow tennis ball. Billie Jean returns to the timpani and bounces the big yellow ball off the drums in response to Anagnost's downbeats. There is a concluding toast and the mock heroics of Walker's score are over.
For her encore, Billie Jean strums a gigantic racquet through two choruses of "Dixie." It is all great fun, but King wants to leave the kids with more. "I want them to know," she says, "that in sports as in music, all of life, it's important to earn things. There are no quick fixes. It's wrong to think that everything worthwhile is going to come easily."