---
Gwyneth Walker
Pupils' Request Music to Ears of Composer
by Ellen Moses, The Bradenton Herald, Bradenton, Florida
Published 11/13/95
---
Return to Gwyneth Walker Home Page
Return to Gwyneth Walker Music Catalog
Return to Gwyneth Walker Recordings Page
Read notes for Suite for Strings (1996) for string orchestra
---
(Photograph of string students at Harllee Middle School.)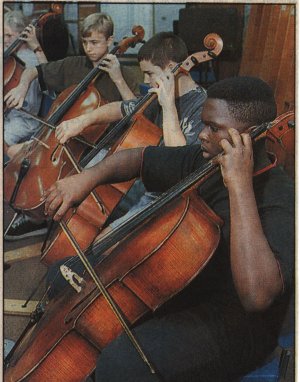 Orchestra students at Harllee Middle School entertained a special visitor Tuesday: composer Gwyneth Walker of Vermont.
Walker was in town to get a feel for the musical abilities of the group that recently hired her.
That's right, the Harllee students commissioned Walker to write a special piece for strings -- just for them.
"It's not easy to find performance pieces for the beginning-level players," said orchestra director Dale Jensen. "It's hard to find a piece of music that is interesting to our ears, to the ears of an audience and within our technical limitations."
Jensen said the orchestra hopes for a musical piece that will meet those criteria and still be fun for students to practice and perform.
A tall order, but one Jensen said he feels certain Walker will be able to deliver.
Students quizzed Walker about her background and how she gets ideas for her compositions.
Walker, 48, said she began composing pieces when she was in elementary school, but did not pursue it as a full-time vocation until after grudate school and several years of teaching music.
"I wanted to personalize the musical creation experience for them . . . I want them to know that composers are real people," Jensen said. "(Walker) is one of the those rare people who is able to make a living at it."
Walker will return in May with her original piece for the Harllee students.
Jensen said he hopes to perform the piece with all or most of the school's 46 string players, who comprise the intermediate and advanced orchestra. The orcehstra will play the original piece at a concert tentatively scheduled for May 21. The location will be announced later.
The orchestra will pay Walker $1,000 for her original piece. The group raised half the money from candy sales last year, and a grant from the Manatee Schools Foundation will cover the remainder.
Pat Stenberg, a spokeswoman for the Sarasota Pops orchestra, called Walker's music "very accessible." ...
"Her music is very accessible to the audience, yet is not simple. It's energetic, sensitive, it's tuneful without being trite," Stenberg said.