---
Gwyneth Walker
Randolph Area Composers Concert at Chandler Music Hall
by D. Mickey Drysdale, The Herald, Randolph, Vermont
Published 5/03
---
Return to Gwyneth Walker Home Page
Return to Gwyneth Walker Music Catalog
Return to Gwyneth Walker Recordings Page
Read notes for Climbing to Heaven (2002) for readers, actors, and chamber orchestra
---
(Photograph of composers Gwyneth Walker, Erik Nielsen (rear), and Kathy Wonson Eddy. Photo by Robert Eddy.)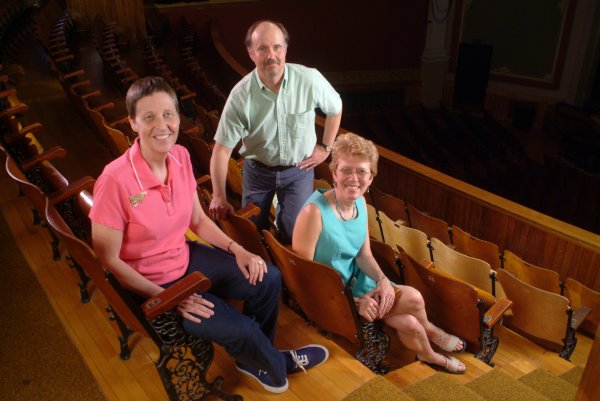 The Chandler Center for the Arts will present the world premieres of newly-commissioned work by three distinguished local composers, Gwyneth Walker, Erik Nielsen and Kathy Wonson Eddy, Sunday June 1 at 7:30 p.m. at Chandler Music Hall in Randolph.
The performance is a culmination of an 18-month project, conceived by Program Director Rebecca McMeekin, that began with the commissioning of new music by the Chandler Center for the Arts in Nov. 2001.
"Central Vermont is blessed with many artistic resources: a variety of accomplished community instrumental and choral groups, Chandler Music Hall, and three renowned composers," she said. "This project has brought all of these resources together in an effort involving over 70 members of several central Vermont communities."
Gwyneth Walker's enthusiasm for her adopted community in central Vermont is unbridled. She finds great joy in the characteristics of life in Vermont that distinguish it from more populated states. The quality of her music has resulted in a large number of commissions that stretches even into the next several years.
For this project, Dr. Walker has combined musical and theatrical components in a staged presentation, "Climbing to Heaven." Her published music has a strong dramatic component.
"When I travel away from home and am asked about current projects," she said, "and I explain about the June 1 event, I always get the same reaction: 'How wonderful that a community would do such a thing!' This sort of support for local composers does not happen everywhere! Nor do all communities have so many willing composers!"
Her new piece is a musical and theatrical work for instrumental ensemble, readers and dancers based on writings of Thomas Merton. Instrumentalists will be members of the Montpelier Chamber Orchestra, under the direction of Catherine Broucek Orr. An intergenerational group of community members will participate as readers and dancers. They have rehearsed under the direction of RUHS drama director Charlie McMeekin.
Erik Nielsen has distinguished himself as a socially conscious community member and composer. A longtime Brookfield resident, he has written a large body of works reflecting social issues, and increasingly over the past 10 years, has worked diligently to write community music within central and northern Vermont. He collaborated with poet and playwright David Budbill of Wolcott, in adapting Budbill's play, "Judevine," into a full-length opera, "A Fleeting Animal."
Nielsen has worked with performing groups within Vermont such as Bread and Puppet Theater, the Killington and Manchester Chamber Players, Northern Harmony, Onion River Chorus, Sounding Joy!, the Vermont Contemporary Music Ensemble, Vermont Symphony Orchestra, Vermont Youth Orchestra and Village Harmony. His portion of this project will bring together high school instrumentalists and local adult musicians in a setting of five poems by David Budbill.
"I thought the project represented a good opportunity to compose for a combination of high school instrumentalists and community adult singers," he said.
Nielsen's new work for chorus and instrumentalists is entitled, "Like the Clouds." The high school instrumentalists have been prepared by RUHS instrumental music director, Josh Stumpff. Randolph Singers director Larry Hamberlin assembled the group of singers and will conduct the performance.
Kathy Wonson Eddy has balanced a full-time calling as a minister in the United Church of Christ with an active 27-year composing career. She has completed more than 200 compositions for voices and instruments, which have been widely performed in churches, and across the country, as well as in Scotland, Ecuador, and Brazil. Her compositions are often written to mark festival occasions, to celebrate particular lives and events, and to spotlight musical gifts within her church community.
For this project, Eddy has composed her first orchestral suite, "Vermont Rhapsody," for soloists and members of the Montpelier Chamber Orchestra. She received inspiration for each of the three movements from specific places in the Vermont landscape: Mount Mansfield, Riford Brook and Lake Dunmore. While she has extensive experience composing for soloists and small ensembles, creating a piece for chamber orchestra has been a new challenge.
"What a privilege to have the opportunity to compose a symphonic work!" Eddy said. "This has been a keen intellectual challenge and a delight. I am so grateful to have had 27 years of composing in a community that supports local composers with such commitment, vigor and generosity."
The goal for this project was to celebrate the musical resources in the extended community by providing an opportunity for both the composition and performance of important new work by local composers. Key components of the project are the intergenerational nature of the project, interaction of the composers with local musicians and the public performance of the new pieces.
Funding for the project was received from the Vermont Arts Council, which funded both the creation and presentation of this new work; The "Meet the Composer" fund at the New England Foundation for the Art; and the Arts Endowment Fund of the Vermont Community Foundation. The performance at Chandler is sponsored by the Chandler Center for the Arts, Vermont Pure and the Ultramotive Corporation.