---
Gwyneth Walker
Thoreau-ly Enchanting: A Prolific Composer and a Northwest Chamber Group Call on the Spirit of Spring
by Jefferson Robbins, Go! Magazine, The Wenatchee World, Wenatchee, Washington
Published 2/25/00
---
Return to Gwyneth Walker Home Page
Return to Gwyneth Walker Music Catalog
Return to Gwyneth Walker Recordings Page
Read notes for Footsteps of Spring (2004) for piano trio and narrator
---
(Photograph of the Cascades Trio. from left, Duane Funderburk (piano), Alex Russell (violin), Kara Hunnicutt (cello).)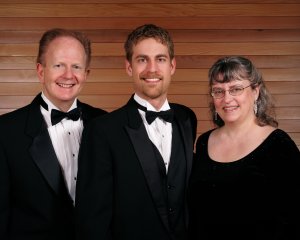 For someone whose job is to sit and write music, Gwyneth Walker has a hard time keeping still.
By the end of June, the Vermont composer estimates, she'll have attended 18 premieres of her work throughout the nation. That includes a stop in Wenatchee next week, for the debut performance of "Footsteps of Spring: A Walk in the Woods with Henry David Thoreau.
The piece gets its premiere performance from the Cascades Trio: violinist Alex Russell, cellist Kara Hunnicutt and pianist Duane Funderburk, playing Wednesday at the Wenatchee Valley Museum & Cultural Center. The trio commissioned the nine-section work last year, and first rehearsed it in January.
"As we played through, we just kept saying, 'Oh, that's marvelous, oh, that's great,' " Hunnicutt says. "It's modern, but not modern in the sense of being dissonant or challenging to the ear at all. It's very easy to hear, easy to listen to."
It must come with practice. A graduate of Brown University and the Hartt School of Music, Walker wrote her first music at age 2 and has published more than 130 commissioned works for orchestra, band, chorus and chamber ensembles. In 1982, she walked away from Oberlin College Conservatory after four years on the faculty to become a freelance composer.
"I like teaching, teaching is a wonderful thing to do - but it's very hard to combine a full-time teaching job with full-time composing," Walker says. "And I don't want to be a half-composer. I want to be a whole composer."
Walker, who lives and writes on a dairy farm outside Braintree, Vt., delights in crossing musical boundaries and composing for a variety of ensembles. Her Fantasy Etudes (1992) uses just piano and violin; Three American Portraits (1988) is for string quartet; An American Concerto (1995) was created for violin and orchestra, and was premiered by the Mid-Columbia Symphony in Richland under conductor Robert Bode. A CD of her voice-and-piano compositions, including The Sun Is Love, based on the poetry of Rumi, comes out this week.
"I try to plan the commission schedule and the composing schedule so that I have a variety," Walker says. "I think I would get stale if I just did one genre. So I have things I'd like to write, and when people contact me, I often mention the sorts of things I'd like to write, and they say, 'Wonderful, yes!' "
That's how Footsteps of Spring came about. Hunnicutt was principal cellist with the Mid-Columbia Symphony when Walker's concerto was debuted. Last June she contacted Walker, who'd been thinking about a work involving literary readings; Hunnicutt liked the idea, and Walker delivered the finished work by November.
A free public workshop with Walker precedes the concert, at 7 p.m. Tuesday at the Woods House Conservatory of Music. Aside from "Footsteps," the Wednesday concert will also feature the Wenatchee High School Chamber Singers under Dan Jackson, performing an earlier Walker piece, "Vision of the Hills." For "Footsteps," the Cascades Trio is joined by Robert Bode, acting as narrator with readings from Thoreau's "Walden" and other works - complete with walking stick.
"I do not expect this reader to be wearing a tuxedo," Walker says. "I'll have to be sure he knows that, but we'll see."
Go! Magazine: Did you try to immerse yourself in Thoreau's writing before composing this piece?
Gwyneth Walker: I have a familiarity with Thoreau. Firstly, I'm a New Englander (Walker's family arrived there in 1635) ... and secondly my uncle was the curator of the Thoreau Lyceum, and I once was taken on a walk around Walden Pond. So I know who Thoreau is - I don't feel it's necessary to be a Thoreau scholar, because most of the audience are not Thoreau scholars, so I'd like to present the readings in the way that someone who's not familiar with Thoreau would still understand the nature of what he was doing.
Go!: What drove you from academia into full-time private composition? A lot of people get nestled in at universities and never leave.
Walker: That's exactly why I left so soon. When I got my teaching job at Oberlin, lo and behold, I was not able to write every day, nor were any of the others on the faculty - and this just did not seem like a healthy thing for a composer to do, to teach all the time and hardly ever write. The things that I was writing were being performed hither and yon all around the country, and I went to hear them, and I got a lot of encouragement from the performers and audience. So I decided the only way I would be able to write more music would be to leave my teaching job. And it was scary, especially because I had no role models. All the other people were settled in for the duration. But I just thought it would be scarier yet to not try to live my dream. That was more frightening to me than the idea of not having a plan or set employment.
Go!: In some of your orchestral and chamber work, there are musicians doing foot-stomps or vocalizations - using things other than their instruments to make sound. Where did that come from?
Walker: Well, in the 1960s and '70s, when I was in graduate school, the whole idea of the traditional concert was being challenged intellectually. The idea that the performer would be a non-person who would show up in a black outfit and sit somewhere back on the stage was being challenged a lot, and performers were doing more things. I've been an avid audience person - since I'm a composer, not the performer, I'm always in the audience, and I know myself how interesting it is when something visual happens. I thought, "If the performer is there on the stage, let's look at them."
Go!: Can you sort of outline the commission process? What's being asked when you take on a job?
Walker: You know the group for whom you're writing. If it's a commission for string quartet, you need to write a string quartet. So those parameters are given, and usually they will tell you roughly how long a piece they want. That of course is tied to their budget, too. But if it's a longer piece, they don't tell me "This must be in five movements." It's up to me to decide what would work. And of course, they would commission me because they like my style of writing. They wouldn't say, "Write us a piece in the style of Shostakovich." They want a Gwyneth Walker piece, and therefore, they expect that the piece will have some of the features of other works that they've liked - mainly that it would be melodic or harmonically rather accessible, with maybe a dramatic flair to it, and occasionally some humor coming in. Also, often there's a special occasion that will help to gear the nature of the work. Often people commission works in memory of somebody, so you want to incorporate something that had to do with that person, something they would like - and in my opinion, that would not be the time to do my funniest piece, but it doesn't have to be overly somber either. So the nature of the occasion does figure in there.
Go!: How much of composing music is math, and how much is feeling?
Walker: Well, of course, planning the piece means proportions as well as just the general flow. People often equate music to architecture. You have to have an entire structure; otherwise your piece will ramble and will not hold together. So I think that if the planning is very good, it doesn't have to be mathematics of a higher order. Definitely when you're planning and you're balancing, you're very aware of "four measures of this" and "eight measures of that," and "this comes back in such-and-such a manner," so it's just basic arithmetic in that way. But the overall structure is a very important thing. That's what I try to plan before I start writing. In terms of feelings and putting your feelings in the music, that obviously is very important also for the message of music. But I don't think that you study that - I think that either you express yourself, which includes your thought process and your sense of humor and your faith and all your feelings in music, or you don't. It's either your language or it's not. Surely, it helps to be in touch your feelings, but simply writing music gets you in touch with your feelings, so it all works together.